House Captains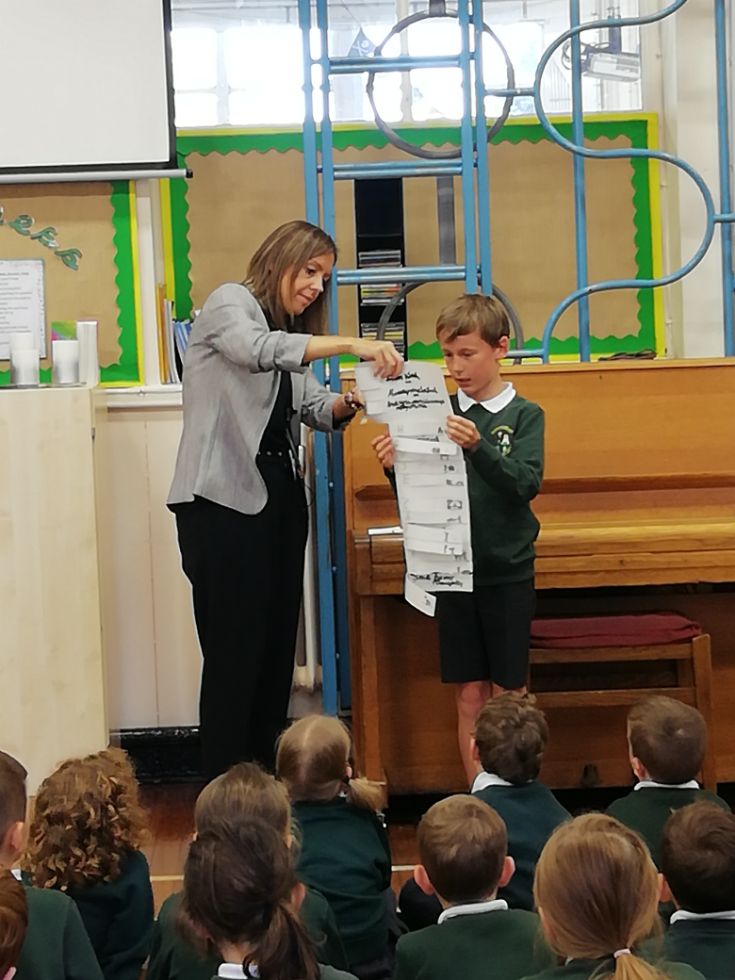 At Summerseat Methodist Primary School, the House Captains and Vice Captains will lead their houses at lunchtime, in sports competitions and give a special award in our 'Golden Assembly' every Friday. They will also be responsible for collecting and announcing weekly house point totals.
Following speeches in assembly and a democratic ballot, I am pleased to introduce our House Captains and Vice House Captains for 2019-20...
Kay - Rafe (Captain), Isabella (Vice Captain)
Hamer - Elliott (Captain), Charlie (Vice Captain)
Hoyle - Freddie (Captain), Harry (Vice Captain)
Rogerson - Olivia (Captain), Mason (Vice Captain)
All the children who put themselves forward did a wonderful job and should be very proud of themselves.
House Captain Speeches
Hello, my name is Elliott as you all probably know and I'm 11. You should vote for me because I'll help you get house points everyday in Hamer. Also, if you're lonely on the playground, I'll come and play with you and if something is bothering you, tell me and we'll go and get a teacher. So vote for me for Hamer house captain because if you want points, I'm the right person for the job.
Hi, my name is Freddie and I think I would be a good House Captain because no one will ever go unnoticed and I will make sure no one is being mean or getting hurt. On Sports Day, I will make sure everyone will be encouraged and have a good time. At Summerseat everyone tries to do their best and to work hard in the classroom, i will do my best to do that outside the classroom. I have done an acrostic poem about Hoyle:
Helpful
Openhearted
You should always care
Love
Equality
Olivia - Individually we are unique but together we are a masterpiece. At Sumemrseat, we try to thrive and flourish in all that we do and I believe if Rogerson ave me as their House Captain we will shine and come together as a team. As a House Captain, you have to be caring, kind and considerate, which I believe I am. I will make sure no-one will go unnoticed and all ideas will be appreciated and listened to. Everyone is to be treated as they would treat themselves and I will always remind you of our Summerseat Values.
I am Rafe and I think i should be House Captain because I have my own values that will help our house in different ways. My values are just like the school vlaues, except my values spell out Kay House Captain. These are my values:
Kind
Always helpful
You can rely on me
Honest
Organised
Understanding
Sensible
Encouraging
Confident
Aware
Passionate
Thoughtful
Always caring
Imaginative
Never naughty.
This is why I think i should be Kay House Captain.